Schedule candidate interviews
You have an interview request and you need to set it up for your client. Our schedule on behalf of feature gives you the opportunity to do this quickly, with only a few clicks.
Key features: #
Pre-defined client availability without needing to ask #
Your client will have a Cronofy account and will have already chosen their free time for holding interviews. When you share this with a candidate, you can be sure they'll choose a day / time that you know is available. There's no back and forth.
Multiple options for including other interviewers #
One person will 'own' the event, but other Hiring Managers and interviewers can be invited to the meeting.
Flexibility on the interview details #
You can set the length of time, format, and location of interviews. Alternatively, your client can pre-determine this (e.g. 30 minute interviews via zoom).
Add additional information #
You can attach documents (e.g. CV's, job descriptions) and other information (such as the content of the interview) so everyone is fully prepared.
Keep control of the process #
As you'll be creating and sharing the interview link you'll know when an interview has been booked, and when it's booked for.
Inviting your client to Cronofy so you can schedule candidate interviews on their behalf #
The first step is to create a new Organizational Unit for your client. This keeps their data separate from other clients and allows you to use your client's branding on what the candidate sees when booking an interview.
Please watch the video below to set this up:
Click on the Create Organizational Unit link in the left hand navigation bar and give it the name of your client.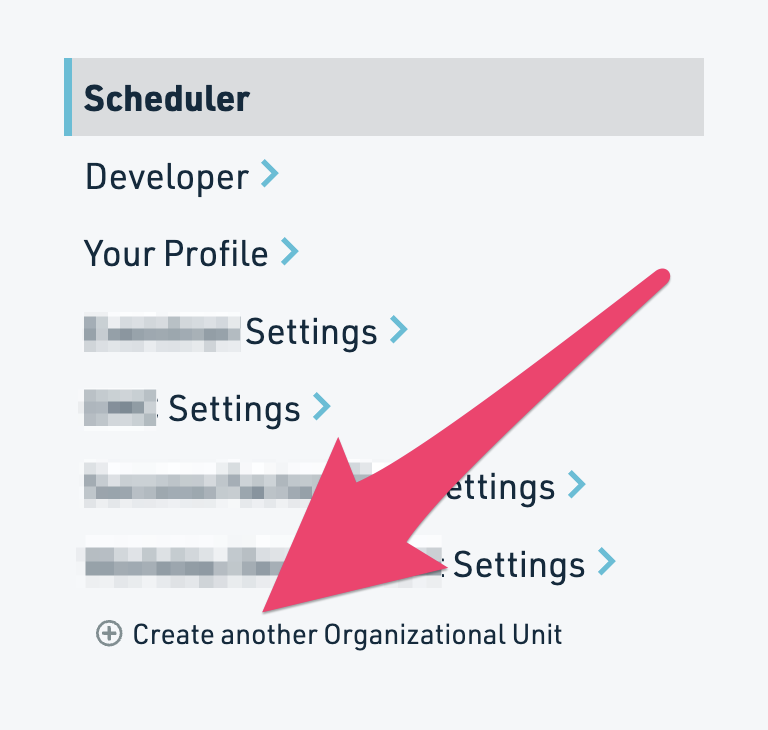 Then you can invite people from your client to their dedicated Organizational Unit so you can schedule on their behalf.

Inviting your client is as simple as adding their email.

Once they've accepted they become immediately available for you to schedule on behalf of. Please see our Schedule on Behalf Of page for more information.
How you as a Recruiter can get the most out of Schedule on Behalf of #
Keep momentum #
Need a process to move quicker? Offer 7 days availability instead of 14. It'll encourage the interview to take place sooner rather than later.
An interview is confirmed as soon as the candidate chooses a time. It goes into their calendar and the client's, along with an email confirmation.
You can access the Cronofy app either at the scheduler homepage or by installing the Cronofy Browser extension. This means you'll be able to access it while writing an email to save on time.
Retain visibility #
You don't need to be an attendee of the interview to have visibility of when it's taking place. You'll get email updates, even if there's an issue like a cancellation or rescheduling.
The interview's details will exclusively live within the calendar invitation. This includes the meeting link (e.g. zoom link). By keeping it in one place, there's less to think about ahead of the interview.
If things change last minute, interviews can be rescheduled using the same link.
Stand out from your competitors #
An interview link is a really powerful relationship-building tool. You won't need to follow up to confirm interviews, but the simplicity of booking an interview makes for a much more improved candidate and client experience
It's also an excellent business development opportunity, particularly with new clients or attendees who you haven't had the chance to speak with personally.